About UVM Photo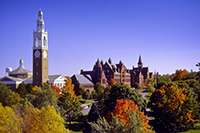 W
e are Celebrating our 50th Anniversary!

UVM Photo was established in 1964 to provide professional photography services to the University of Vermont community. Over the past 50 years we have created a photo archive containing over 500,000 photographs of the University, Burlington and the beautiful state of Vermont.
Sally McCay
Sally provides professional photography and video production services for promotional materials for University related websites and print publications.

Photo Archive:
UVM Photo has an extensive archive of high resolution digital images available on this website that may be purchased with a credit card or UVM department chart string. Photos may be browsed by doing a

Search

or by simply visiting the

Gallery Page

and browsing through images that are grouped by year, date and subject. More images are being added daily so check back often.

Lightboxes:
Lightboxes are groupings of images -- created by you -- that are best used for editing selections or sharing with

others by using star ratings and comments. UVM Departments may also download or purchase images directly from a lightbox. Lightboxes are inherently private: They must be explicitly shared with others, and all invitees must log in before being able to view a lightbox's contents.

If you choose not to use a Lightbox to purchase images it is not a problem! Simply order by choosing the BUY button on top of each image to purchase with a credit card or contact Sally at

smccay@uvm.edu

with your chart string information and the images that you would like to purchase.


UVM Photo Price List
UVM Photo's mission is to provide, at a reasonable
rate, promotional photography and video production services for
the University's departments, websites and publications.


UVM Photo is a non-subsidized division of


University Communications
at the University of Vermont.